A 5-DAY RETREAT
By Life Enlightening Project /Nikos Ntoupis
A 5-DAY MINDFUL WORK & ALIGNMENT WITH THE CREATIVE FORCE OF THE FIRE ELEMENT
By Life Enlightening Project / Nikos Ntoupis
Are you familiar with the 5 Elements, their connection with the Seasons' changing and their importance in the continuity of the Circle of Life within ours? Did you know that the Element of Fire, when acknowledged and aligned within you, ignites Awareness and brings life-changing action, desired results and an actually deep, cleansing transformational? Aka all that you need for the closure of an era in your life and your preparation in order to open another, even more creative and meaningful one? Finally, did you know that the Element of Fire is dominant during the Summer season?
THE EXPERIENCE
In this 5-day Yoga & Meditation retreat in Island, Greece, all self-grow-and-relaxation-combo-vacations aficionados can participate at this 5-day Yoga & Meditation retreat, regardless of the level of practice.
Our daily practice with Yoga Asanas, Mudras, Breathing techniques and various Meditation exercises aim to lead us "work" with the key chakras connected to the Fire Element: the Solar plexus and the Heart chakra. Our aim through this mindfully set-up daily trivia is to achieve a state of awareness on their role into our life and to purify them and reset them by using the Fire Element, in order to connect with our Higher Self and purpose of life.
Throughout the retreat, you allow yourself to reconnect with your inner joy, enthusiasm, nobleness, sincerity and clarity. You also experience a strengthened willpower and a more meaningfulconnectionwithyourbodyandyourself.Mindfulness and deep relaxation are always side benefits!
Do you think it is the best time to get all set for new beginnings you have in mind for a while now? Is it the best moment to re-define your "place of happiness" in this dynamically changing era?
THE YOGA RESORT VENUE & THE KOUFONISIA ISLAND
Koufonisi Villas is the most distinguished and exquisite villas complex in Koufonisi Island. The location and the Cycladic architectural design offer calmness, idyllic view and a very sophisticated-yet-cozy accommodation aligned with the island's local color and vibe. The yoga resort offers view on the best sandy beach of the island, Pori.
Villa Porithea | Koufonisi Villas
Take a breathtaking look at our definition of paradise on earth and on the Koufonisi Island. Get into the energy surrounding this Life Enlightening Project Retreat:
PARTICIPANTS' YOGA & MEDITATION EXPERIENCE
All levels of experience are welcome; no previous experience is mandatory to participate
Your retreat's yoga & meditation program is designed in accordance to your specific needs
DAILY PROGRAM
07:00 – 07:30 MORNING SILENCE MEDITATION (OPTIONAL)
08:00 – 08:30 BREAKFAST (HERBAL TEA, COFFEE, SEASONAL FRUITS)
8:30 – 10:00 HATHA KRIYA YOGA PRACTICE
10:00 – 12:00 BRUNCH
12:00- 17:00 FREE TIME* 17:00 – 18:30 HATHA KRIYA YOGA PRACTICE
19:00 – 20:30 DINNER
20:30 – 21:15 (apx) EVENING MEDITATION
21:30 – END OF THE DAY. FOR YOUR DEEP BODY & MIND RELAXATION IT IS ADVISABLE TO GO TO SLEEP AT THIS TIME
WHAT TO DO IN YOUR FREE TIME
Book a session, a therapy or a personal consultation with the Life Enlightening Project Holistic & Wellbeing Mentor, Nikos Ntoupis
Explore the Pori beach – a true gem only a few minutes away from our Yoga resort (walking distance)
Intake the island's magnetic vibes and beauty.
YOUR RETREAT PACKAGE INCLUDES
6-day/5-night stay on the island of Koufonisi, Greece, at our beachfront yoga resort in Pori, the best sandy beach of the island
Delicious vegetarian meals and Greek food (tea & fruits, brunch, dinner)
Group pick-up from Koufonisi Port upon arrival / group drop-off upon departure
Yoga equipment (mats)
Amenities (soaps & shampoos)
Hammam towel as a gift
Exclusive use of the yoga shala.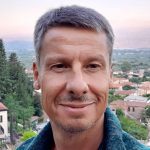 WHO IS NIKOS NTOUPIS
The founder of the "Life Enlightening Project" is an experienced and charismatic Holistic and Wellness Mentor. Born in Athens, Greece, more than 15 years ago he decided to follow his heart's path and to help and empower people through his holistic and wellbeing studies.
Through Traditional Chinese Wellbeing consultations,Aesthetics acupuncture,Massage therapies,in-water relaxation techniques,Reikisessions, Hatha Kriya and Kundalini Yoga, Preksha Meditation and organized Retreats that combine spirituality and vacations, Nikos Ntoupis introduces to participants new, more enlightened ways on the "Know Thyself" path.
Nikos Ntoupis has a great experience in a vast variety of holistic therapies, and is among the very few Greek therapists that has helped national and international renowned celebrities to bring (more) Light into their lives.
TRAVEL INFO
Check In / Check Out
July 24th: Check-in at 14:00 (at 17:00 we start with our first Hatha Kriya Yoga Practice)
29th of July: Check-out at 10:00
If you arrive prior to our check-in schedule, you can drop your luggage off at the villa and spend your time at the nearby beach or restaurant.
Travel to Koufonisia
There is a ferry connection between Koufonisi and Piraeus port, the main port of Athens. The trip lasts about 8 hours. You can also reach Koufonisi from other islands of the Cyclades like Naxos, Mykonos, Santorini, which receive domestic flights from Athens International airport. Naxos National airport is the closest one to Koufonisi. From there, you can take the Sea Jet ferry, approximately 1-hour trip to Koufonisi. From Mykonos the sea jet ferry to Koufonisia is 1:30-hour trip and from Santorini 2:30-hour trip.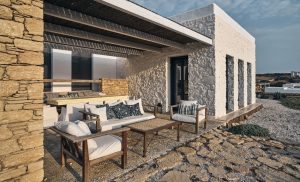 COVID-19 SAFETY PROTOCOLE
COVID-19
All travelers arriving in Greece are currently required to present documentation of a negative PCR Covid-19 test to have 72 hours before entering Greece. In addition, they must complete their PLF on the day before entering and leaving the country, provide detailed information on their point of departure, the duration of previous stays in other countries, and the address of their stay while in Greece, to the following page:
COVID-19 Health Protocols
Rooms are cleaned, sanitized and ventilated prior to your arrival
All members and staff use personal protective measures
Hand sanitizers are available in all Villas
Daily housekeeping is avoided, as per the health guidelines. Room cleaning, towels and sheets change is scheduled once during your 5-day stay
Our retreat location has even more outdoor time in the nature-based setting
Yoga classes will take place at the yoga shala
Therapies and massages will take place at the massage pergola. Facilities will be cleaned daily
Yoga equipment will be sanitized before using. We encourage each participant to keep their equipment during the retreat and bring it with them in all classes
All guests are required to clean and sanitize their hands before and after each class.
***On request, any specific cleaning/disinfecting protocols will be implemented carefully.
RETREAT PRICES
SHARED ACCOMMODATION IN DOUBLE OR TWIN ROOM
Lower Level Rooms
Queen bedroom with en-suite bathroom1.910 per person.
Twin bedroom with single beds and sharing shower bathroom at €1.845 per person.
Main Level – Sea View
Queen bedroom with en-suite shower bathroom at €1.980 per person.
Twin bedroom with single beds and sharing shower bathroom at €1.945 per person.
King bedroom with sharing shower bathroom at€1.945 per person.
SINGLE ACCOMMODATION
Lower Level Room
Queen bedroom with en-suite bathroom at €2.800 per person.
Main Level – Sea View
Queen bedroom with en-suite shower bathroom at €2.870 per person.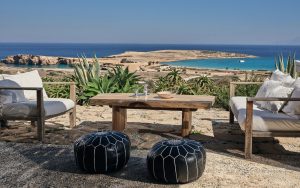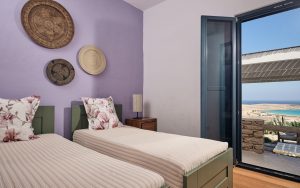 PAYMENT TERMS – CANCELLATION POLICY
Deposit of 35% upon booking.
Final payment by May 14.
Bookings are fully refundable if cancellations are made until May 14. No refund in case of cancellation after May 14.
Full refund in case of retreat cancellation by the organizer.
Nikos Ntoupis
Holistic Wellness Mentor
+30 6945296908
info@lifeenlighteningproject.com